Information for Seniors
Welcome
Welcome to our Seniors page featuring a selection of the latest resources you can find at your library. A great range to choose from, read, listen, watch and enjoy!
We'd love to hear from you if you have any questions or suggestions to make. Just Email us or make a suggestion to buy request. Happy reading!
New Books at the Library
The Durrells of Corfu / Michael Haag.
"The Durrell family are immortalised in Gerald Durrell's My Family and Other Animals and its ITV adaptation, 'The Durrells'. But what of the real life Durrells? Why did they go to Corfu in the first place - and what happened to them after they left? The real story of the Durrells is as surprising and fascinating as anything in Gerry's books, and Michael Haag, with his first hand knowledge of the family, is the ideal narrator, drawing on diaries, letters and unpublished autobiographical fragments. The Durrells of Corfu describes the family's upbringing in India and the crisis that brought them to England and then Greece. It recalls the genuine characters they encountered on Corfu - Theodore the biologist, the taxi driver Spiro Halikiopoulos and the prisoner Kosti - as well as the visit of American writer Henry Miller. And Haag has unearthed the story of how the Durrells left Corfu, including Margo's and Larry's last-minute escapes before the War. An extended epilogue looks at the emergence of Larry as a world famous novelist, and Gerry as a naturalist and champion of endangered species, as well as the lives of the rest of the family, their friends and other animals. The book is illustrated with family photos from the Gerald Durrell Archive, many of them reproduced here for the first time." (Syndetics summary)
The secret code-breakers of Central Bureau : how Australia's signals-intelligence network helped win the Pacific War / David Dufty.
"A ground breaking work of Australian military history, The Code-Breakers of Central Bureau tells the story of the country's significant code-breaking and signals-intelligence achievements during the Second World War. It reveals how Australians built a large and sophisticated intelligence network from scratch, how Australian code-breakers cracked Japanese army and air force codes, and how the code-breakers played a vital role in the battles of Midway, Milne Bay, the Coral Sea, Hollandia, and Leyte. The book also reveals Australian involvement in the shooting down of Admiral Yamamoto near Bougainville in 1943, and how on 14 August 1945, following Japan's offer of surrender, an Australian intelligence officer established the Allies' first direct radio contact with Japan since the war had begun. This is a rich historical account of a secret and little-understood side of the war, interwoven with lively personalities and personal stories. It is the story of Australia's version of Bletchley Park, of talented and dedicated individuals who significantly influenced the course of the Pacific War." (Syndetics summary)
We are the change we seek : the speeches of Barack Obama / edited by E.J. Dionne Jr. and Joy-Ann Reid.
"A collection of Barack Obama's greatest speeches selected and introduced by columnist E.J. Dionne and MSNBC host Joy-Ann Reid. We Are the Change We Seek is a collection of Barack Obama's 26 greatest addresses: beginning with his 2002 speech opposing the Iraq War and closing with his final speech before the United Nations in September 2016. As president, Obama's words had the power to move the country, and often the world, as few presidents before him. Whether acting as Commander in Chief or Consoler in Chief, Obama adopted a unique rhetorical style that could simultaneously speak to the national mood and change the course of public events. Obama's eloquence, both written and spoken, propelled him to national prominence and ultimately made it possible for the son of a Kenyan man and a white woman from Kansas to become the first black president of the United States. These speeches span Obama's career--from his time in state government through to the end of his tenure as president--and the issues most important to our time: war, inequality, race relations, gun violence and human rights. The book opens with an essay placing Obama's oratorical contributions within the flow of American history by E.J. Dionne Jr., columnist and author of Why The Right Went Wrong , and Joy Reid, the host of AM Joy on MSNBC and author of Fracture." (Syndetics summary)
A cottage in the country : inspirational hideaways / Jane Eastoe.
"We all dream of escaping to a hideaway in the country--a green and pleasant idyll of country lanes with hawthorn hedges, a garden filled with hollyhocks and rosebushes, a cozy, flagstoned interior with a fire burning in the hearth. A Cottage in the Country presents a glorious collection of the most fascinating and picturesque small dwellings from the National Trust. From rustic workers' cottages to the inspirational homes of Thomas Hardy and Virginia Woolf, from the prettiest thatches to solid stone follies, this inspiring book celebrates the very best of cottage life. Unlock your escapist fantasies with this visual delight showcasing 38 gorgeous cottages inside and out, along with the fascinating stories of their history and the lives of the people who have called them home." (Syndetics summary)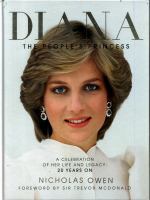 Diana : the people's princess : a celebration of her life and legacy : 20 years on / Nicholas Owen ; foreword by Sir Trevor McDonald.
"On 31 August 1997, the world was stunned by the tragic death of the most popular and photographed woman of the modern age: Diana, Princess of Wales. The outpouring of public grief at this tragically early death was unprecedented in modern times. Now, 20 years on, Diana:The People's Princess celebrates both her life and her legacy. A dignified and unexploitative celebration of Diana's life, Diana: ThePeople's Princess commemorates this remarkable woman's life from her childhood to her tragic premature death at the age of 36. With authoritative text and a vast array of photographs, this updated edition includes new material on the aftermath of her death, including her legacy as a mother - Princes William and Harry and their involvement in perpetuating and protecting her memory - and the continuing work of the Royal Foundation of the Duke and Duchess of Cambridge and Prince Harry. Diana: The People's Princess is a respectful, sensitive and poignant tribute to this elegant, charming and sympathetic symbol of our times.Foreword by Sir Trevor McDonald."
The genetics of health : understand your genes for better health / Dr Sharad P. Paul.
"Covering everything from how predisposition to allergies and food intolerances can be traced back to our ancestors to even our porpensity for procrastination or impulsiveness, The Genetics of Health explores how it always leads back to the expression and suppression of various genes. But knowing the path our species took to this moment in our evolution is just the beginning of reaching true personal health. Knowing your own genetic make-up can help doctors prescribe the right dosage of a drug or provide preventative medical advice"--Back cover
From sketch to watercolour painting : pen, line and wash / Wendy Jelbert.
"Why sketch? Wendy Jelbert's answer is that sketching is the best way to record inspirational scenes and to capture special moments. Through a series of step-by-step projects Wendy demonstrates how to develop your sketching skills and to transform a sketch into a finished painting. Everything is covered from capturing detail, composition and texture to making the most of your sketchbooks. Many of Wendy's finished paintings and the sketches that inspired them are included throughout the book.

Chapters on figures, themes and strengthening your sketching skillsIdeas and practical advice for your sketching. Exciting pen and wash techniques. Three full step-by-step projects and dozens of inspirational artworks" (Syndetics summary) .
The smartphone photography guide : shoot, edit, experiment, share / Peter Cope.
"The Smart phone Photography Guide is a dedicated guide to taking, creating, manipulating and sharing photographs taken specifically on a smart phone or tablet, including video. Both instructive and inspirational, the book has sections devoted to the Top 10 rules for taking photographs on a camera phone, particular genres, including shooting children and pets, concerts and festivals, action and sport, and is enhanced with Pro Tips to help you elevate ordinary photos into something more professional, 'Try this' panels, and jargon buster boxes that explain technical terms in context. Updated with all the latest on VR kits, the best Apps, and taking the perfect Selfies, the book provides all the information you need to become a great photographer and make the most of your smart phone, from the moment impulse strikes.
" (Syndetics summary).
350+ knitting tips, techniques, and trade secrets / Betty Barnden.
"Give a stylish finish to your knitted garments and accessories with this essential compendium of knitting know-how. Over 350 tips, techniques, and secrets are explained and illustrated with clear step-by-step photographs and diagrams. Discover how to read patterns and charts, choose color and yarns, mix and match stitch patterns, and adapt designs for the perfect fit.All kinds of stitches abound, from stockinette stitch and ribbing, to lace, Fair Isle, cables, and intarsia work. This book explains all the techniques you'll need in the order you'll need them, from casting on and joining in yarns, to shaping, and adding buttonholes, pockets, and embellishments. Plus, "Try It" and "Fix It" panels suggest ways of practicing and developing new skills and avoiding or correcting common knitting errors." (Syndetics summary).
How not to kill your plants / Nik Southern.
"Hands up if you've killed a plant? Yep, me too. It's no secret that we've all become plant obsessed, but do we really understand how to look after them?I am not a Professor of Botany, but having run my florist and plant shop, Grace & Thorn, since 2011 I've learnt a few things along the way. HOW NOT TO KILL YOUR PLANTS is about taking the hocus-pocus out of plants and flowers and enabling you to understand a plant's needs in order to know where to place and how to style them, but most importantly how to keep them alive.I get asked every type of question you can imagine and I have written this book to answer them.Watering can down, it's time to go back to the roots.Keep it green.Nik x(AKA The Agony Plant)" (Syndetics summary)
Large Print
These books have print that is larger than usual. The collection is available at Central Library and all the branches. You can find these books in the catalogue. All Large Print titles are available to borrow or reserve. If you need assistance, please phone in or ask any of our staff to show you how to place a reserve from our public access catalogue or from your home computer
The ebb tide / Beverly Lewis.
"Sallie Riehl is thrilled at an unexpected summer opportunity to nanny in Cape May for a well-to-do family. It means forgoing baptism another year and leaving behind a would-be beau, yet the weeks in Cape May soon prove unforgettable as Sallie meets a young Mennonite man whose friendship she quickly begins to cherish. Has she been too hasty with her promises?" (Syndetics summary)
Murder on the serpentine: a Charlotte and Thomas Pitt novel / by Anne Perry.
"It is not the custom for the commander of Special Branch to receive a royal summons-- so Thomas Pitt knows it must be for a matter of the gravest importance. The body of Sir John Halberd, the Queen's confidant, has been found in the shallow water of the Serpentine in Hyde Park, bearing the evidence of a fatal blow to the head. At Her Majesty's request, Sir John had been surreptitiously investigating Alan Kendrick, a horse-racing enthusiast who seems to have had an undue amount of influence on her son, the Prince of Wales. Now Commander Pitt must navigate the corridors of power with the utmost discretion and stealth, for it seems certain that Sir John's killer is a member of the upper classes. Aided by his wife, Charlotte, and her social contacts, Pitt seeks out the hidden motives behind the polite facade of those to the manner born-- and uncovers a threat to the throne that could topple the monarchy."--Amazon.com
Sound and Vision
Take a look at some newly arrived books on CD, CDs and DVDs in our AV collection.
Books on CD
The diamond caper / Peter Mayle.
"Bon vivant and expert sleuth Sam Levitt and his partner in love and intrigue, Elena Morales, return in the latest installment of the delightfully sun-splashed Provenc̜al Caper series. While investigating a string of jewel heists in France, Elena reunites with Sam and uncovers a dangerous master criminal." (Syndetics summary)
The prisoner : a John Wells novel / Alex Berenson.The Prisoner
"To unmask a CIA mole, John Wells must resume his old undercover identity as an al Qaeda jihadi -- and hope he can survive it -- in this cutting-edge novel from the #1 New York Times- bestselling author. It is the most dangerous mission of John Wells's career. Evidence is mounting that someone high up in the CIA is doing the unthinkable--passing messages to ISIS, alerting them to planned operations. Finding out the mole's identity without alerting him, however, will be very hard, and to accomplish it, Wells will have to do something he thought he'd left behind forever. He will have to reassume his former identity as an al Qaeda jihadi, get captured, and go undercover to befriend an ISIS prisoner in a secret Bulgarian prison. Many years before, Wells was the only American agent ever to penetrate al Qaeda, but times have changed drastically. The terrorist organizations have multiplied: gotten bigger, crueler, more ambitious and powerful. Wells knows it may well be his death sentence. But there is no one else." (Syndetics summary)
Featured Services
Movies at the Library
Come along to our free film nights at Central, Johnsonville, Tawa or Newtown libraries.
We have special permission to screen these films for free as long as we don't advertise the film name online, so call the library on the day to find out what movie is screening and to book.
Central
Every Thursday night at 6pm on the Ground Floor. Rating can be up to an M.
Newtown
The first Friday of each month at 6pm. Family friendly feature films.
Johnsonville
The first Friday of every month at 5.30pm.
Tawa
The third Thursday of each month at 6pm.
Our Record Collection
Vinyl LPs are once again in high demand and are now available to borrow from the Central Library. Titles can be borrowed for $1.00 for seven days.
RBDigital eMagazines
RBDigital (formerly Zinio) holds a great collection of over 190 current magazine titles including the New Yorker, Vanity Fair and New Scientist.
With your library card, you can borrow as many as they like for free, and keep them as long as they want - with no overdue fees. There's a wide range of magazines - have a browse of our eMagazines.
Here are some getting started guides: desktop, iOS and Android. If you have any questions about this new service please email us at enquiries@wcl.govt.nz.
Genealogy
We have a wealth of information about genealogy (family history). Here are some useful links:
For the sight impaired
If you have any kind of sight impairment or can no longer hold a book comfortably please visit our borrowing information for for the sight impaired (use AV material for free). You can also call us on 801 4121 or Ground floor — Fiction Desk — of the Central Library on Victoria Street.
Services for the sight impaired
Housebound Customers:
Residents and ratepayers who are permanently or sometimes temporarily housebound through long-term illness, disability or frailty are eligible for free home delivery service.
If you are unable to make a trip to the Library and are aged between 13 and 103 this could be for you. Please visit our Housebound webpage or call us on 801 4044 for more information.
Smartview & ZoomText
Smartview makes seeing things much easier for people with low vision and ordinary eyesight. It is great for photos, letters and documents and is adjustable for particular eye conditions. Find the Smartview on the Ground Floor at the Central library by the Large Print Collection.
ZoomText screenreader is available on the Second Floor free internet computer at the Central Library. ZoomText enlarges font size on web pages and electronic documents (email, newspaper databases etc) and can be set to read these aloud or display in high-contrast large print.
Useful websites
Contact us
This page is maintained by Celia. My aim is to keep you up to date with our library resources which may interest you and provide links to information that may be useful to you. I'd be pleased to hear from you about this page - you can e-mail me with any feedback.