Whakapono Pūtā
Buddhism
Welcome
Welcome to Wellington City Libraries' page of resources on Buddhism. Here you'll find a cross-section of what the library holds on Buddhism, some quick links into our online databases and the library's catalogue, and links to websites on Buddhism selected by our subject librarians. The Dewey Decimal call number for Buddhism as a subject is 294.3. (A comprehensive list of Dewey numbers for other religions can be found on the Beliefs homepage.)
Page last updated 12 August 2018.
Recent items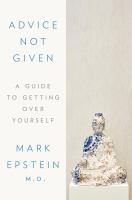 Advice not given : a guide to getting over yourself, by Mark Epstein.
"In Advice Not Given, renowned psychiatrist and author Dr. Mark Epstein reveals how Buddhism and Western psychotherapy, two traditions that developed in entirely different times and places and, until recently, had nothing to do with each other, both identify the ego as the limiting factor in our well-being, and both come to the same conclusion: When we give the ego free reign, we suffer; but when it learns to let go, we are free. .. Breaking down the wall between East and West, Epstein brings a Buddhist sensibility to therapy and a therapist's practicality to Buddhism." (Catalogue)
Ten tales from Tibet : cultivating compassion, by Lama Lhakpa Yeshe.
"A collection of poetic re-tellings distilled from ancient oral tradition, the stories have been specially chosen by Lama Lhakpa Yeshe because they demonstrate a beautiful wisdom in a simple, yet profound way, and teach us how to nurture the singular human quality that defines us all. Introduced by global peace and environment campaigner, Satish Kumar, a pupil of Lama Lhakpa Yeshe, and illustrated with photography by fellow Buddhist Matthieu Ricard, this is a beautifully crafted book and unique guide to opening our hearts and minds by cultivating compassion--helping others and ourselves--to find joy, peace, and happiness." (Syndetics summary)
Happiness is a state of mind : how to create space for happiness in your life, by His Holiness Gyalwang Drukpa ; with Kate Adams.
"His Holiness the Gyalwang Drukpa reveals that the secret to happiness lies in the mind. Exploring the simple ways we can train our minds to recognise a happiness that is already there, he gives us the tools to embrace an appreciation for life as it is, rather than as we feel it should be, and helps us flourish as individuals, and as part of the wider world." (Syndetics summary)
Secular Buddhism : imagining the Dharma in an uncertain world, by Stephen Batchelor. The practice of mindfulness is more common in mainstream Western culture, although many have little interest in the religious aspects of Buddhism. Is it possible to recover from the Buddhist teachings a vision of human flourishing that is secular rather than religious without compromising the integrity of the tradition? Batchelor explores the complex implications of Buddhism's secularization and offers a detailed picture of contemporary Buddhism and its attempt to find a voice in the modern world. (drawn from the Syndetics summary)
The revolutionary life of Freda Bedi : British feminist, Indian nationalist, Buddhist nun, by Vicki MacKenzie, foreword by Jetsunma Tenzin Palmo. Freda Bedi (1911-1977) was an English woman who become both a revolutionary in the fight for Indian independence and then a Buddhist icon. She was the first Western woman to become a Tibetan Buddhist nun and broke the rules of gender, race, and religion--in many cases before it was thought that the rules were ready to be challenged, and counted among her friends, and teachers Mohandas Gandhi, Jawaharlal Nehru, Indira Gandhi, the Dalai Lama, and many others. (Drawn from publisher's summary)
The religion of tomorrow : a vision for the future of the great traditions : more inclusive, more comprehensive, more complete, by Ken Wilber. To be relevant to contemporary society, spiritual traditions need to take account of recent scientific discoveries about the mind, brain and emotions. Using Buddhism as an example, Wilber discusses his comprehensive Integral Approach -- and shows how we can apply this to our own spiritual practice. "This is a call for wholeness, inclusiveness, and unity in the religions of tomorrow." (Drawn from publisher's summary)
A force for good : the Dalai Lama's vision for our world, by Daniel Goleman.
"Much more than just the most prominent exponent of Tibetan Buddhism, the Fourteenth Dalai Lama is also a futurist who possesses a profound understanding of current events and a remarkable canniness for modern social issues. When he takes the stage worldwide, people listen. A Force for Good combines the central concepts of the Dalai Lama, empirical evidence that supports them, and true stories of people who are putting his ideas into action--showing how harnessing positive energies and directing them outward has lasting and meaningful effects. ... Millions of people have turned to the Dalai Lama for his unparalleled insight into living happier, more purposeful lives. Now, when the world needs his guidance more than ever, he shows how every compassion-driven human act--no matter how small--is integral for a more peaceful, harmonious world, building a force for a better future." (Syndetics summary)
When awareness becomes natural : a guide to cultivating mindfulness in daily life, by Sayadaw U Tejaniya ; edited by Robert French ; foreword by Steven Armstrong.
"Meditation is great - but it's not what Buddhist practice is all about. That's the message of this engaging and funny Burmese Buddhist monk, and it's a message that is finding a significant following among Westerners in the Insight Meditation tradition. Sayadaw U Tejaniya teaches how to bring awareness to any sort of activity in order to discover deep insight and liberation from suffering. It works in sitting meditation, but it works just as well when sorting the laundry or doing data entry. "My teachings are nothing new," he says. "They are, as always, based on the four foundations of mindfulness: awareness of the body, awareness of feelings and sensations, awareness of mind, and understanding of dhamma or nature, i.e., mind and matter." (drawn from Syndetics summary)
Karma : what it is, what it isn't, why it matters, by Traleg Kyabgon.
"By now, we've all heard someone say, "It must have been his karma" or "She had bad karma." But what is karma, really? Does karmic theory say that we are helpless victims of our past? Is all karma bad, or can there be good karma too? Is reincarnation the same as the Buddhist theory of rebirth? Kyabgon answers these questions and more by elucidating the Buddha's teachings on karma and rebirth. He distinguishes the Buddhist view of karma and rebirth from related notions of karma and reincarnation found in the Hindu tradition, explains why the notion of karma is indispensable to the theory and practice of Buddhism, and demonstrates how karmic theory provides a foundation for morality that doesn't require belief in God." (Syndetics summary)
The saffron road : a journey with Buddha's daughters, by Christine Toomey. "Part travelogue, part history, part spiritual enquiry, this records stories of Buddhist nuns from both the East and West including why they decided to become nuns, often leaving professional careers or marriages. Their answers varied but one common thread is a search for spiritual satisfaction. Toomey offers some explanations of Buddhist principles in context, but this is suitable for readers who know nothing about Buddhism.
Public Zen, personal Zen : a Buddhist introduction, by Peter D. Hershock.
As the title suggests, the author presents an overview of Zen from two different viewpoints: its "public" or institutional history and its "personal" or practiced history. The development of Zen as a religious institution in Japan is traced, together with how Zen has been practiced by both laypeople, clergy, and the ruling classes throughout its history. This is also a good study of the connections between a religion and the political, social, and economic institutions with which it lives.
Fear : essential wisdom for getting through the storm, by Thich Nhat Hanh.
"Fear has countless faces: from the fear of failure to worries about everyday life, from financial or environmental uncertainties to the universal despair we all experience when faced by the loss of a friend or loved one. Even when surrounded by all the conditions for happiness, life can feel incomplete when fear keeps us focused on the past and worried about the future. While we all experience fear, it is possible to learn how to avoid having our lives shaped and driven by it. In these pages, Thich Nhat Hanh offers us a timeless path for living fearlessly." (Back cover)
eBooks
Yes! we now have downloadable eBooks on Buddhism. Overdrive Ebooks is a free service.
Under the label "Browse eBook Nonfiction" choose the Religion and spirituality heading to find books.
Titles include :
Stages of meditation : Training the Mind for Wisdom, by His Holiness the Dalai Lama.
Radiant mind, by Peter Fenner.
Living as a River : Finding Fearlessness in the Face of Change, by Bodhipaksa.
Going on Being: Buddhism and the Way of Change, by Mark Epstein.
The library also subscribes to Borrowbox audioBooks, currently the religion range is not as great as Overdrive.
Downloadable Audio Books
Overdrive Audio is a free service which allows you to download and listen to audiobooks, and includes some Buddhism-related audio books. Some can be saved onto CD for future listening, after the due date.
Under the label "Browse Audiobook Nonfiction" choose the Religion and spirituality heading to find books by :
Joseph Goldstein, Pema Chodron, Jack Kornfield, Matthieu Ricard, and Adyashanti as well as classic titles such as Mindfulness for beginners, or Tibetan wisdom for living and dying. Try The naked Buddha, by Adrienne Howley.
Downloading instructions are included step by step. Downloadable audiobooks are issued for 3 weeks, and titles can be reserved if they are already on loan.
Online databases & articles
Database articles:
Wellington City Libraries subscribe to a number of different online databases that provide news and periodical articles on a wide range of topics. Some titles relevant to Buddhism are : Buddhism Today, Journal of Global Buddhism, Journal of Buddhist Ethics, and Middle way : journal of the Buddhist Society. Visit our online databases section, www.mygateway.info and select the Gale option from the drop down menu at the top of the page. You will be prompted to login first in another window, entering your library card number and surname details.
Other online articles:
Tricycle, (E-journal).
Tricycle is a Buddhist bi-monthly review established in 1991 and published out of New York City.
Useful websites
Contact Us:
Interested in finding out more about what the library holds on beliefs? Found a topical online resource you'd like to share? Contact us at enquiries@wcl.govt.nz. We'd love to hear from you!