Aramahi
Careers
Welcome
Welcome to Wellington City Libraries' page of resources on Careers and Job hunting. Here you'll find a cross-section of what the library holds with some quick links into our online databases and the library's catalogue, and links to websites selected by our subject librarians. The Dewey Decimal call numbers for Careers as a subject are 650.1 and 331.
Recent books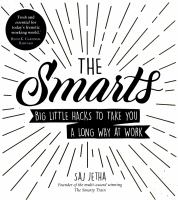 The smarts : big little hacks to take you a long way at work / Jetha, Saj
"The essential Millennial careers book from the founder of The Smarty Train, the awardwinning agency that unlocks talent globally. First job, new challenge or just bored of the same old? Master the new working world with The Smarts by doing, thinking and feeling to be the best you. Saj Jetha - economist and founder of multi-award winning training and talent advisory The Smarty Train - has distilled everything he knows about work success in this witty, irreverent collection of smart hacks. Having helped thousands of people at major corporations worldwide like Accenture, EY and HSBC, Saj reveals his secrets for gaining a professional edge in the new working world." (Catalogue)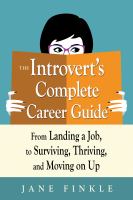 The introvert's complete career guide : from landing a job, to surviving, thriving, and moving on up / Finkle, Jane What do Elon Musk, Warren Buffet, Marissa Mayer, and Bill Gates all have in common outside of being wildly successful? They are all introverts. In today's fast-paced, unstable workplace achieving success requires speaking up, promoting oneself and one's ideas, and taking initiative. Extroverts, fearless in tooting their own horns, naturally thrive in this environment, but introverts often stumble. If you question your ability to perform and succeed in this extroverted work culture, The Introvert's Complete Career Guide is custom fit for you. In this supportive, all-inclusive handbook, Jane Finkle demonstrates how to use your introverted qualities to their best advantage, then add a sprinkling of extroverted skills to round out a forceful combination for ultimate career success. Finkle shares the keys to navigating each stage of professional development--from self-assessment and job searching, to survival in a new position and career advancement. (Catalogue)
The genius habit : how one habit can radically change your work and your life / Garnett, Laura
"Make your job the right job Maybe you're a young professional just starting to think seriously about what you want out of your career. Maybe you've been job hopping for a few years and haven't found the perfect fit. Or maybe you want to launch your career to a new level and bring fresh energy to your work. In The Genius Habit, performance strategist Laura Garnett shows you how the path to finding long-lasting professional happiness starts with building the habit that makes extraordinary accomplishment all but guaranteed, as well as: The difference between passion and purpose and why one matters more than the other How to stop equating achievements with happiness Why having a mentor is not a necessity for career success The benefits of continually fine-tuning your career so you are challenged and fulfilled every day Combining the most recent and exciting research on productivity and performance with Laura's experience guiding dozens of high-level clients to the heights of success, The Genius Habit is a must-read for anyone who believes that work can and should be one of the most rewarding aspects of life." (Catalogue)
Career leap : how to reinvent and liberate your career / Gibbings, Michelle
"Adapt you career to the shifting paradigm of work, employment and success The word career doesn t mean what it used to. Adapt you career to the shifting paradigm of work, employment and success The word "career" doesn't mean what it used to. People entering the workforce today will have an estimated 17 employers and five careers in their lifetimes -- and already many existing roles are being automated away, with many more to follow. No profession, industry or geography is immune, and employees need to change their idea of what it means to be employed. The rise of freelancing and the gig economy means flexibility and independence, but also less security -- with trends showing it is the way of the future. You cannot future-proof your job, but you can future-proof your career.
The Job-Ready Guide: How To Set Yourself Up For Career Success [hardback] / Waal, Anastasia De
"Develop the skills employers want, succeed at the job application process and plan for a successful career in your dream industry with this inspiring and practical one-stop-shop. To get the career you want, you need to be job-ready. This is your all-in-one guide to understanding what employers want and how to prepare yourself with a personal career plan. From gaining work experience, to mastering essential skills and acing the application process, The Job-Ready Guide is a complete resource for standing out from the crowd and getting a job offer. It shows you how to build a strong CV, write an impressive cover letter, excel at interviews, and cultivate the professionalism that employers want. Moving from education into the workplace can be a challenge: the world of work demands skills that you may never have had to truly use - or think about - before. The Job-Ready Guide will help you to boost your employability, covering everything you need to prepare for and start a successful career. You'll be able to conduct a systematic job search, learn how to network and develop a personal brand online, as well as hone valuable skills including leadership, teamwork, creativity and problem-solving. A highly practical, hands-on guide, this book is packed with useful features, including interactive exercises to help you in your real life; insider advice from employers; and tips from professionals at different stages in their careers who reveal 'what they wish they'd known'." (Catalogue)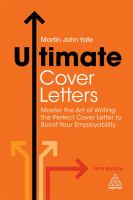 Ultimate cover letters : master the art of writing the perfect cover letter to boost your employability / Yate, Martin John
"Perfect your written approach to potential employers, covering everything from online applications, speculative letters, networking and even acceptance and rejection letters. Does your cover letter have the X factor? How can you make sure that it communicates what employers really want? Ultimate Cover Letters, from best-selling author and careers expert Martin John Yate, describes how to write the very best cover letters, helping you to open doors to job interviews and offers of employment, and outshine all other candidates. From the very popular Ultimate series, the book offers sound advice on assembling letters and how to use key 'power phrases' to get results, as well as over 100 sample letters to cover a variety of situations. These include e-mail responses to online applications, speculative letters, letters to answer advertised vacancies, follow-up letters, networking letters and even acceptance and resignation letters. Now including a chapter on how to develop your professional image and integrate it into your job search letter, Ultimate Cover Letters 5th edition covers all aspects of this crucial part of the job-hunting process in an engaging and approachable way, ensuring you put every chance of success by your side. Ultimate Cover Letters will help you make the perfect first impression. " (Catalogue).
Where to start first
Careers New Zealand
Careers New Zealand is a government site that has everything you need to help you make smart decisions about work and learning in New Zealand. The home page of Careers New Zealand links to a whole toolbox of useful pages, including:
Useful Websites
Resumes/CVs/Interviews
Employment Websites
Upgrading your skills
Key transferable skills
Networking and the hidden job market
Although there are many employment sites on the internet, it is useful to remember that growing numbers of people find their new job through the hidden job market - i.e. through contacts. This is one area where experienced workers have an advantage through years of connections, both personal and professional. Volunteering is a good way to enlarge your network of contacts, whilst allowing you to help a cause.
General
Catalogue Quicksearch
Our online databases
Lynda.com
Lynda.com is an online tutorial service providing access to over 3,500 instructional videos on computer software, creative and business skills. The courses are delivered by tutors who are both experts in their field and know how to teach. Added features, allow for searching across courses, curated playlists and individual access enabling course progress to be saved. Lynda.com can be accessed both within the library, or from outside.
Note: your 'pin' is your surname.
Business databases
Online "premium" databases you can access for free with your library card -- have a browse!
Business databases & online resources
Contact us
This page is written and maintained by Marilyn Domney, our Libraries' Business Customer Specialist. I'd be pleased to hear from you about this page - contact me with any feedback.