Pakihi - Ngā Wāhine kei te Mahi me te Pakihi
Business - Women in Employment and Business
New Zealand resources and contacts
Organisations
Articles freely available online
International contacts and resources
Catalyst
Catalyst is a non-profit organization working to advance women in business and the professions. This research organization has systematically tracked women's progress in the workplace and publishes this information on the web site.
Catalyzinga
Catalyzing is the Catalyst blog, bringing together and amplifying diverse voices that share Catalyst 's mission to expand opportunities for women and business
Womens Agenda
An Australian hub sharing the latest news and views affecting how women live and work. It reports daily on politics, business, leadership, tech and life from the perspective of professional women and female entrepreneurs.
Library resources
(Make sure to first check Small Business Page with links and resources.)
Magazines
Articles available via our online magazines
Mumpreneurship in New Zealand: an exploratory investigation.
Source: International Journal of Sociology & Social Policy 2018, Vol. 38 Issue 5/6 pp 459-473.
Abstract: This study provides valuable insights into the nature of being a Mumpreneur, information that is often difficult to obtain, assisting mothers who are contemplating business ownership as well as existing Mumpreneurs, who may feel alone in their struggles for success
40 Online resources all women in tech careers should know about.
Source: Women in Business 2019 Vol 70 issue 2 pp20-21 Abstract: Gives seven steps for businesswomen to consider when solving business problems.
Women's rugged road to top.
Source: New Zealand Herald 28 October 2019 Abstract: Jane Phare looks at wealth creation, the challenges female entrepreneurs face in business and why more don't make it to the Rich List.

Books
The making of a manager : what to do when everyone looks to you / Zhuo, Julie
"Leading a team for the first time is a daunting new endeavor. Facebook's Vice President of Product Design Julie Zhuo presents a bold new guide to getting respect--and results--in your new managerial role. Julie Zhuo remembers the meeting where she was asked to become a manager. As in, convince her peers that she deserved to be in charge of all of them. She was 25. She barely had any experience being managed, let alone managing others. But hey, what could go wrong? As it turns out, Julie had a lot to learn. Like most first-time managers, she was thrown straight into the deep end, with little to guide her. What followed was a series of anxiety-inducing firsts, from her first time agonizing over whether an interviewee was a good fit for her team, her first time building trust with a report who was more experienced than she was, and her first time firing someone she liked. In this accessible, friendly guide, she reveals what she learned the hard way: * Why you should give continuous feedback, instead of waiting for performance reviews
* Why you shouldn't deliver critical feedback in a "compliment sandwich"
* Why you should stop trying to impress your manager, and start asking for help with your thorniest problems If you are a new manager, looking to be promoted, or even in your first decade or so of managing, this is a practical guide to navigating the often-choppy waters." (Catalogue)
Work wife : the power of female friendship to drive successful businesses / Cerulo, Erica
"Close since college, Cerulo and Mazur founded the website Of a Kind in 2010, revealing themselves to be past masters at spotting the next big trend before it starts building. (They have Forbes 30 Under 30 credentials.) Here they interview other good girlfriends-e.g., Amanda Hesser and Merrill Stubbs of Food52, Misty May-Treanor and Kerri Walsh Jennings, triumphant together in Olympic volleyball-to show how women can successfully team up. Get inspired by the women who discovered that working with your best friend can be the secret to professional success--and maybe even the future of business, from the co-founders of the website Of a Kind. When Erica Cerulo and Claire Mazur met in college, they bonded instantly. Fast-forward to 2010, when after almost a decade of friendship they founded the popular fashion and design website Of a Kind. Now, in their first book, Cerulo and Mazur bring to light the unique power of female friendship to fuel successful businesses. Drawing on their own experiences, as well as the stories of other thriving "work wives," they highlight the ways in which vulnerability, openness, and compassion--qualities central to so many women's relationships--lend themselves to professional accomplishment and innovation. Featuring interviews with work wives such as Amanda Hesser and Merrill Stubbs of the influential food community site Food52, Ann Friedman, Aminatou Sow, and Gina Delvac of the hit podcast Call Your Girlfriend, and Misty May-Treanor and Kerri Walsh Jennings of Olympic volleyball fame, Work Wife addresses a range of topics vital to successful partnerships, such as being the bosses, tackling disagreements, dealing with money, and figuring in motherhood. Demonstrating how female partnerships in the office are productive, progressive, and empowering, Cerulo and Mazur offer an invaluable roadmap for a feminist reimagining of the workplace. Fun, enlightening, and informative, Work Wife is a celebration of female friendship and collaboration proving that it's not just feasible but fruitful to mix BFFs with business." (Catalogue)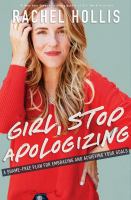 Girl, stop apologizing : a shame-free plan for embracing and achieving your goals / Hollis, Rachel
"Bestselling author of Girl, Wash Your Face and founder of TheChicSite.com Rachel Hollis urges women to stop apologizing for their desires, hopes, and dreams and instead to go after them with passion and confidence. Rachel Hollis, #1 New York Times bestselling author of Girl, Wash Your Face and host of the top-rated Rise podcast, urges women to stop apologizing for their desires, hopes, and dreams and instead to go after them with passion and confidence. Rachel Hollis has seen it too often: women being afraid of their own goals. They're afraid of embarrassment, of falling short of perfection, of not being enough. But the biggest fear of all is of being judged for having ambition at all. Having been taught to define themselves in light of other people--whether as wife, mother, daughter, friend, or team member--many women have forgotten who they are and what they were meant to be. In Girl, Stop Apologizing, entrepreneur and online personality (TheChicSite.com) Rachel Hollis encourages women to own their hopes, desires, and goals and reminds them they don't need permission to want more. With a call to women everywhere to stop talking themselves out of their dreams, Hollis identifies the excuses to let go of, the behaviors to adopt, and the skills to acquire on the path to growth, confidence, and the biggest possible version of their lives." (Catalogue)

Getting noticed : a no-nonsense guide to standing out and selling more for momtrepreneurs who 'ain't got time for that' / Moreno, Lindsay Teague
"Momtrepreneurs, listen up! You don't have time for another "change everything you're doing on social media and be just like me" book. You need information and you need it fast. Do you want to grow your following, sell more product, and experience the freedom that comes with being your own boss? Getting Noticed isn't the secret to social media, but rather a no-fluff, take-charge guide to the way we present ourselves and our businesses, and how we connect with consumers online. Lindsay Teague Moreno, author of Boss Up!, knows the hardcore mom life. In between wash cycles, putting the kids to bed for the fifth time, and balancing a to-do list that would make Santa jealous, she grew a business from nothing into a team of over 300,000 people producing over $15 million dollars each month in just three years. Lindsay knows you don't have time for another book that leaves you with temporary warm fuzzies but no real content." (Catalogue)

Last updated November 2019