Christianity
Welcome
Welcome to Wellington City Libraries' page of resources on Christianity. Here you'll find a cross-section of what the library holds on Christianity, some quick links into our online databases and the library's catalogue, and links to websites selected by our subject librarians. Books on Christianity are spread over a range of Dewey Decimal numbers. Try our Catalogue Quicksearch to help focus your searching, or else check out the Beliefs homepage for a comprehensive list of Dewey numbers relating to religion.
Last updated 5 November 2017.
Recent items
(Books, magazines, books on CD and DVDs.)
Books:
The story of Christianity : a history of 2,000 years of the Christian faith / David Bentley Hart.
Hart provides a broad picture of Christian history. Presented in 50 short chapters--each focusing on a critical facet of Christian history or theology, with timelines, quotations, and colour images. This is an honest attempt to be pan-Christian well beyond the Anglo-American stable including Orthodox traditions, Coptic, Malankaran, house churches of contemporary China etc.
Building a bridge : how the Catholic Church and the LGBT community can enter into a relationship of respect, compassion, and sensitivity, by James Martin, SJ.
"The largest mass shooting in US history took place at a gay club and the LGBT community has been profoundly affected," Martin began in an online video. He then implored his fellow Catholics--and people everywhere--to "stand not only with the people of Orlando but also with their LGBT brothers and sisters." ... Martin uses the image of a two-way bridge to enable LGBT Catholics and the Church to come together in a call to end the "us" versus "them" mentality. Turning to the Catechism, he draws on the three criteria at the heart of the Christian ministry--"respect, compassion, and sensitivity"--as a model for how the Catholic Church should relate to the LGBT community." (Syndetics summary)
Rational faith : a philosopher's defense of Christianity, by Stephen T. Davis.
"If God exists, why doesn't he eliminate suffering and evil? Does evolution disprove Christianity? Can religion be explained by cognitive science? People have grappled for ages with these kinds of questions. Drawing on a lifetime of rigorous reflection and critical thinking, Davis explores perennial and contemporary challenges to Christian faith. Davis appraises objections fairly and openly, offering thoughtful approaches to common intellectual problems. Real questions warrant reasonable responses." (Syndetics summary)
Martin Luther : renegade and prophet, by Lyndal Roper. 2017 is a milestone 500 years since the emergence of Martin Luther as an influential change agent in the church. This is a full-blooded portrait of a revolutionary thinker who was, deeply flawed and full of contradictions. Distinguished Oxford University historian, Lyndal Roper looks inside the heart of this complex figure. The force of Luther's personality, she argues, had enormous historical effects--both good and ill. "This is Luther in colour." (The Times) "Anyone seriously interested in one of the most influential figures of the last half-millennium will need to make time to read this one." (Literary Review) The library has also recently purchased Martin Luther : Catholic Dissident.
Windows on a women's world : the Dominican Sisters of Aotearoa New Zealand, by Susannah Grant. 10 Dominican sisters arrived in Dunedin in 1871, and for the first 100 years here the sisters were teaching nuns, living in large enclosed convents cut off from the outside world. But when the Second Vatican Council ushered in a period of radical change, they moved into small homes in local neighbourhoods, with new roles in education, social justice, pastoral care and spirituality. Grant completed a large number of oral histories with the sisters, and describes this transformation. (based on publisher's summary)
Without rival : embrace your identity and purpose in an age of confusion and comparison, by Lisa Bevere. Bevere, popular conference speaker, offers insights on women's identity within her place in God's kingdom, and draws on Christ's own teachings. She recognises the gender prejudice still to be found in many churches but reaches beyond that to remind readers of God's message of love to women, despite the challenges they face in every age.
Pushing boundaries : New Zealand protestants and overseas missions, 1827-1939, by Hugh Morrison. Quite a lot has been written on the very first wave of missionaries to come to New Zealand. But our understanding of why, within a generation or two, the settler church was sending missionaries from NZ, is weak. Hugh Morrison outlines why missions were important to the colonial churches. What motivated these New Zealanders to leave their new home to live elsewhere? Was it similar colonial trends of culture, empire, childhood and education, or something else?
Biblical literalism : a gentile heresy : a journey into a new Christianity through the doorway of Matthew's gospel, by John Shelby Spong.
"Using the Gospel of Matthew as a guide, Spong explores the Bible's literary and liturgical roots - its grounding in Jewish culture, symbols, icons, and storytelling tradition - to explain how the events of Jesus' life, including the virgin birth, the miracles, the details of the passion story, and the resurrection and ascension, would have been understood by both the Jewish authors of the various gospels and by the Jewish audiences for which they were originally written. Bishop Spong makes clear that it was only after the church became fully Gentile that readers of the Gospels took these stories to be factual, distorting their original meaning...." (drawn from Syndetics summary)
The Emmaus code : finding Jesus in the Old Testament, by David Limbaugh. This made The New York Times Best Seller List in 2015. Limbaugh takes as his starting point a meeting in Luke's Gospel between Jesus and two travellers on the Emmaus Road where the former began discussing "Moses and all the prophets" to explain to them what was already in the (OT) Scriptures about himself. The reader is taken on a journey through all 39 OT books to reveal Jesus Christ and God's meta-narrative. Limbaugh's thesis is that even in the OT all roads lead to Christ, as fulfilment of God's covenants with His people.
The heaven promise : engaging the Bible's truth about life to come, by Scot McKnight. "Heaven. Eternity. The Afterlife. Mention any of these concepts, and people of all ages and from all walks of life are certain to have opinions. Maybe that's why there are so many books and movies that feature heaven-and-back experiences. .... Separating fact from fiction, McKnight helps the reader examine the over-arching story of scripture in order to discover what awaits us. Heaven isn't the construction of a fairy-tale or some mythical narrative. It's ...the fulfilment of God's promise to us." (Syndetics summary)
Finding the forgotten God : credible faith for a secular age, by Ron Hay.
"A brilliant explanation of the Christian faith which deals in a fresh way with the questions people often ask. This work among other things provides in depth information regarding the recent advances made by science, advances that lead toward where the mystics have sat for thousands of years. It is in short, an original and valuable resource book and one that will stand the test of time." (Syndetics summary) Winner of 2015 Mind Body Spirit Literary Award.
Eager to love : the alternative way of Francis of Assisi, by Richard Rohr.
Interest in Francis of Assisi has piqued since the current Pope Francis took office. This is not a biography, but an examination of themes in Francis's ministry : on loving and identifying with the poor, suffering, and outcast, and simplicity. This thinking stands in contrast to those who think they can love God without loving their brothers and sisters. This Franciscan message is helping to inspire and motivate contemporary people of faith.
CDs you may have missed
Power words [CDs at 241.672]: what you say can change your life / Joyce Meyer.
"Joyce Meyer, # 1 New York Times bestselling author, helps readers tap into the life-changing power of positive words and prayer to overcome everyday problems in power words. Developing the habit of speaking God's Word will unlock the power of transformation in readers' lives. In this compact derivative of her bestselling book, Me and My Big Mouth , Joyce Meyer draws from personal experience and Scripture to illustrate how prayer and positive words can be used to overcome every challenge that stands in the way of fulfillment. Joyce teaches readers how to stop talking idly about their problems and use God's power words to defeat them." (Syndetics summary)
Walking with Jesus [CDs at 282] : a way forward for the Church, by Pope Francis.
"Two thousand years ago Jesus said, Follow me. What if the twenty-first-century church actually heeded that call? What would the world look like if the church were truly on the move? Simply put, very different. But these ponderings beg one more critical question: What exactly should the church be moving toward? In "Walking with Jesus: A Way Forward for the Church," Pope Francis own words lead us to the answer. Francis urges us to make Jesus central in our individual lives and in the collective life of the church to walk toward him, and ultimately to walk with him at all times and in all places." (Syndetics summary)
Mary MacKillop [CDs at 271.976] : no plaster saint, by Clare Dunne.
"No Plaster Saint is based on Claire Dunne's programs for ABC Radio National and is updated to include an account of the canonization process from her death in 1909 to the formal declaration of her as saint in 2010. It is the dramatic story of Mary MacKillop, Australia's first saint. In the 1860s Mary MacKillop cofounded Australia's first religious order, the Sisters of St. Joseph, dedicated to the education of poor children, and the provision of refuge to the sick, the old and the destitute. Using material from her diaries and letters, this account of a remarkable pioneering woman, as she battled with institutional power in the church, the role of women, spiritual values and personal integrity, is a moving and uplifting story with relevance for today." (Syndetics summary)
Revelations [5 CDs], by Elaine Pagels.
The Revelation of John of Patmos is one of the more difficult books for modern readers to access and understand. Pagels expertly guides us to examine the context of the first readers around the end of the first century CE, as a scathing attack on the excesses of the Roman Empire, and to a church undergoing challenging and severe persecution.
The art of letting go [6 CDs] : living the wisdom of Saint Francis / Richard Rohr.
Rohr gives listeners a six-session learning course that explores: the surprising richness we discover through simplifying our lives, without taking a vow of poverty; liberation from our self-limiting biases and certitudes; contemplation and action, two key steps toward communing more deeply with the divine and more.
Magazines (in print):
Please check out the very large selection of journals available for free through our online databases!
Biblical archaeology review
"Enhance your Biblical knowledge with the latest discoveries and controversies in archaeology, breathtaking photography, informative maps and diagrams." (Amazon)
Books & culture : a Christian review.
"Some of the best-known authors of our time dig deeply into current issues and analyze them from a Christian perspective, revealing how our culture reshapes itself as society changes." (Amazon product description)
Christianity Today
Aims to cover current American evangelical Christianity.
DVDs:
The Bible [DVD] : a history / Pioneer Productions for Channel 4.
The story of the most influential works ever written: a collection of over 60 books which tell the story of the creation of the world, the birth of mankind, the promise of a homeland for the Jewish people and the remarkable life of Jesus Christ, before cluminating in a terrifying vision of the end of the world.
A history of Christianity - a BBC TV co-production with the Open University and Jerusalem Productions.
"In this fascinating series Profesor MacCulloch explains how Christianity first spread east, extending into Syria, Central Asia, India, and the Far East. He explores the extraordinary and unpredictable rise of the largest single body of Christian devotion in the world, the Roman Catholic Church, and reveals how confession was invented by monks in a remote island off the coast of Ireland. As the series progresses it charts Eastern Orthodox Christianity's fight for survival after its glory days in the eastern Roman Empire and looks at the Reformation and rise of Protestantism as well as the evangelical revial and the American-led rise of Pentecostalism" (container).
Son of God. a BBC Discovery Channel co-production in association with Jerusalem Productions and France 3, (2008).
"Using the most scientific and historical research, along with computer graphic technology, this three-part series attempts to uncover what this First-Century peasant was trying to do and say"--Case slick.
The Exodus decoded
After six years of unprecedented research, host Simcha Jacobovici and a team of renowned archaeologists, Egyptologists, and theologians shed revelatory new light on the Exodus and the era's ruling Egyptian dynasty. Their new theory pushes events hundreds of years earlier than previously believed, allowing age-old stories to sparkle with new perspectives and startling historical impact. Using elaborate, state-of-the art CGI, 'The Exodus decoded' offers a stunning virtual account of stories like the birth of Moses, the ten plagues and the parting of the Red Sea."--Case slick.
The nativity story, (2006)
The Nativity Story chronicles the journey of two people, Mary and Joseph, a miraculous pregnancy, and the history-defining birth of Jesus.
Conversations with God.
Based on the true story of Neale Donald Walsch after he unexpectedly breaks his neck in a car accident and loses his job. Soon after, we witness his transformation from your everyday guy to a homeless bum struggling just to stay alive. Neale's eye-opening roller coaster ride takes us through his emotional battle to get enough food, make friends and regain his life. And just when things seem to be going his way, they get worse. Feeling like a complete failure in all aspects of his life, Neale, full of anger and bitterness asks God a pile of demanding questions. Much to his disbelief, Neale received his answers! The unworldly conversations that follow end up being read by over 7 million people in 36 languages around the world.
Catalogue Quicksearch
eBooks
Yes! we have more downloadable ebooks. Overdrive Ebooks is a free service.
Under the label "Browse Ebook Nonfiction" choose the Religion and spirituality heading to find books.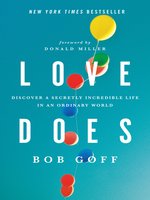 Love Does, by Bob Goff (eBook)

Other recent titles include :
Galatians and Thessalonians, (Paul for everyone) by Tom Wright.
Life in the Psalms, by Patrick Woodhouse.
Jesus on trial, by David Limbaugh.
What is the point of being a Christian?, by Timothy Radcliffe.
Christian Social Teachings : A Reader in Christian Social Ethics from the Bible to the Present, by George W. Forell.

Begin learning NT Greek today
Ever had a hankering to know a bit more about Greek of the Christian New Testament?
Learn at your own pace, in your own time, for free. If you wish, begin at the basic level which assumes no prior knowledge and work your way through the 50 lessons, with an option to save your progress.
Login with your library card details and select the Greek (Koine) language option from the over 40 available on Mango languages.
Downloadable Audiobooks
Overdrive Audio is a free service which allows you to download and listen to audiobooks. Some can be saved onto CD for future listening.
Under the label "Browse Audiobook Nonfiction" choose the Religion and spirituality heading to find books by :
C.S. Lewis, Joel Osteen, Joyce Meyer, Brian McLaren, or Rick Warren.
Titles include :
Amish Grace : How Forgiveness Transcended Tragedy, by Donald B. Kraybill and others.
The 5 Love Languages, by Gary Chapman.
Power thoughts, by Joyce Meyer.
Amazing love, by Corrie ten Boom.

Dictionaries etc
The Cambridge dictionary of Christianity / editor, Daniel Patte.
"The Cambridge Dictionary of Christianity is an authoritative reference guide that enables students, their teachers, and Christian clergy to reflect critically upon all aspects of Christianity from its origins to the present day. Written by a team of 800 scholars and practitioners from around the world, the volume reflects the plurality of Christianity throughout its history. It highlights the different understandings of Christian beliefs and practices in different historical, cultural, religious, denominational, and secular contexts, including anthropological, cultural studies, ecumenical, and interfaith. Different Christian traditions are respected, through the self-presentation of Christianity in each country or Christian tradition, including clusters of entries on beliefs and practices, each presenting the understanding of a given Christian belief or practice in different historical and contemporary contexts. Entries are rounded off with a full bibliography on all topics covered. (Syndetics summary)
Online databases & articles
Featured database:
(All available through Oxford Reference Online.)
A Dictionary of the Bible
Oxford Companion to the Bible
Oxford Guide to People and Places of the Bible
Concise Oxford Dictionary of the Christian Church
Oxford Dictionary of Popes
Oxford Dictionary of Saints
Concise Oxford Dictionary of World Religions
Database articles
Wellington City Libraries subscribe to a number of different online databases that provide news and periodical articles on a wide range of topics. Below you'll find some links to recent articles on Christianity, selected by our librarians.
If you have signed on to our magazine databases in the last month, the article links below will take you straight in to the database to view the article. Otherwise, you will need to login first, entering your library card number and surname details, then return to this page to get the details to insert into the search once you are logged in. If you'd like to discover what our databases have to offer on topics other than religion, visit our online databases section, www.mygateway.info.
Journal titles:
I never knew the library had so many! Where are they? Mostly online - with free access through your library card. If you want to look at several journals offered by the same database service, you don't need to log on to view each title or issue. Here are some titles currently being received :
Other online titles:
Online Journal of public theology (E-journal)
Produced by the US Center for Public Responsibility which seeks to "promote a more responsible form of public faith associated with the historic orthodox theology of the ecumenical Christian church".
Touchstone (E-journal)
Eclectic content, with editors and readers from each of the three great divisions of Christendom - Protestant, Catholic, and Orthodox.
Useful websites
Contact Us:
Interested in finding out more about what the library holds on beliefs? Found a topical online resource you'd like to share? Contact us at enquiries@wcl.govt.nz. We'd love to hear from you!