New Zealand Art
Pages in this section:
About our collection
Below you'll find some recommended titles on New Zealand art history and New Zealand artists. The library has some lending copies of these titles available, as well as (at least) one non-lending (reference) copy.
See also the libraries' Contemporary Māori Art & Artists page.
New Zealand art history:
A concise history of New Zealand painting / Michael Dunn. (1991)
The author's aim is to "provide a short, accessible account of ... the main developments" in New Zealand painting. His focus is on painting rather than painters and therefore there is little biographical material included. The arrangement is by category in preference to chronology. The author states that "traditional Maori art is not within the scope of this work", but there is a section entitled 'Images of the Maori, 1840-1914' which covers Goldie, Lindauer and other European painters who painted Maori in this period. There are 69 colour plates and 62 black & white illustrations.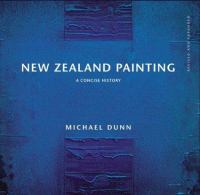 New Zealand painting : a concise history / Michael Dunn. (2003) (Updated ed.)
"Tracing the main developments in New Zealand painting from colonial times to the present, this reference divides the paintings thematically rather than chronologically. The paintings cover the colonial landscape from 1840 to 1870, the later Victorian landscape from 1870 to 1890, images of the Maori from 1840 to 1914, and art in the 1890s. Information on the expatriates, regionalism and realism, modernism, neo-expressionism, later abstraction, and postmodernism is included. This fully revised edition includes a new chapter on Maori and Polynesian contemporary painting, as well as coverage of many new artists in both the historical and the contemporary sections." (Syndetics summary)
Contemporary painting in New Zealand / Michael Dunn. (1996)
This study explores the different perspectives that have formed the current directions in New Zealand painting, including neo-expressionism, recent forms of abstraction and colour painting, the "new figuration" and the bi-cultural contribution of contemporary Maori painting.
Maori : art and culture / Edited by D.C. Starzecka. (1996)
A series of essays on Maori art which starts with Maori prehistory and ends with the Maori collections in the British Museum. As well as art, history and culture are also discussed. Includes large sections on wood-carving and the fibre arts, maps and many colour illustrations.
New Zealand sculpture : a history / Michael Dunn. (2002)
"Comprehensive study of the history of New Zealand sculpture by art historian, Professor Michael Dunn. Professor Dunn charts the development of sculpture in New Zealand from an era of British imports through a period of British influence to an awakening in the 1940s of a sense of the local environment and distinctive character and materials. Extensively illustrated with 89 colour plates and 80 black and white photographs. Also includes a bibliography and reading lists for each major artist." (Google Books)
Te Maori : Maori art from New Zealand collections / Edited by Sidney Moko Mead. (1984)
Aims to present an "overview, in photographs and authoritative texts, of the artistic heritage of the Maori of New Zealand and its relationship to their culture and traditions". The book was published to accompany a major exhibition of Maori art works which toured American museums after opening at The Metropolitan Museum of Art, New York, in 1984. The book is divided into two sections - the first contains essays on Maori art and culture - the second catalogues in detail the 174 objects that were shown in the exhibition.
Mataora : the living face : contemporary Maori art / general editors, Sandy Adsett & Cliff Whiting. (1999)
This text presents a comprehensive artistic, cultural and political statement about the state of contemporary Maori art. Includes the contributions of more than forty artists and writers, such as carvers like Tuti Tukaokao, fibre and multimedia artists like Aromea Tahiwi, Roma Potiki and Jacqueline Fraser, landscape artists and sculptors like Darcy Nicholas, Fred Graham, Emare Karaka, Robyn Kahukiwa and Michael Parekowhai, artists working in clay like Baye Riddell and Paerau Corneal. Packed with coloured illustrations of the artists and their work.
Painted histories : early Maori figurative painting / Roger Neich. (1993)
This volume explores the flowering of figurative painting in the decoration of Maori meeting houses in the latter half of the 19th century. This style was created in response to missionary criticism of Maori church decoration, and later developed several distinctive figurative traditions. In this beautifully illustrated book, Roger Neich, Curator of Ethnology at Auckland Museum, describes the figurative paintings of more than 80 meeting houses, including many that have now disappeared. The most famous of these houses still intact, Rongopai, features in many of the coloured illustrations.
Two hundred years of New Zealand painting / Gil Docking. Rev. ed. (1990)
The original book, by Gil Docking, director of the Auckland City Art Gallery from 1965-72, covered from 1769-1969 ; Michael Dunn, art historian and lecturer, has updated the text for the years 1970-90, adding the work of 23 more recent artists, including Richard Killeen, Tony Fomison, Robin White and others. This new edition features more than 170 paintings, with more than 90 in colour.
Other:
The concise dictionary of New Zealand artists : painters, printmakers, sculptors / Kate McGahey. (2000)
Into the light : a history of New Zealand photography / David Eggleton. (2006)
New Zealand artists:
100 New Zealand craft artists / Helen Schamroth. (1998)
Includes the work of contemporary artists making ceramics, jewellery, glass, fibre works, furniture and books. Intended as a companion to the other "100" art books mentioned in this section. Great colour illustrations but as with the other publications in this series, usually only one per artist. This can either leave the reader unsatisfied, or, more positively, tempt them to search further afield for more information about the artists. Since there has not been a book about New Zealand craft published since 1981 (Craft New Zealand) this is a very welcome addition to our library stock. Both established and new artists are represented and there is a useful alphabetical list of those included at the beginning.
100 New Zealand paintings by 100 New Zealand artists / Warwick Brown. (1995)
As the title suggests, this work contains short biocriticisms of 100 painters. The author states that "the aim of this book is to make it easier for students and collectors of New Zealand 0art to acquire a broad understanding of the present state of contemporary painting in New Zealand". Not intended to be a list of the "top" 100 painters, but rather a compilation of 100 paintings which cover a wide range of styles. Unfortunately only 1 colour reproduction is included for each artist. Arranged alphabetically by artist for quick reference.
Another 100 New Zealand artists / Warwick Brown. (1996)
A companion to '100 New Zealand paintings' which introduces more contemporary artists whose focus is in an area other than painting, including printmakers, photographers, assemblage and graphic artists. Preference has been given to what the author calls "senior artists", and, more specifically, to those whose work is deemed "accessible" and able to stand the test of time. The alphabetical arrangement again is very useful for quick reference.
Contemporary New Zealand art / Elizabeth Caughey & John Gow.
Four volumes have been published so far of this series, which the authors say "will offer readers an overview of contemporary New Zealand artists working at the end of the 20th century - a generously illustrated series covering the wide variety of media in which they work." Twenty artists are featured in each volume, with short biographies and colour reproductions of their work.
Contemporary New Zealand painters. Volume one, A-M / photographs by Marti Friedlander ; text by Jim & Mary Barr. (1980)
Intended as an introduction to the life and work of 20 New Zealand painters, from established artists such as Colin McCahon and Milan Mrkusich to the "new" eighties artists such as Richard Killeen and Robert McLeod. A wonderful collection of images and words which retains its place in the forefront of New Zealand art publishing. Alas volume two was never published.
Contemporary New Zealand photographers / foreword, Hannah Holm and Lara Strongman, edited by Lara Strongman. (2005)
A major survey of recent New Zealand art photography.
Lands & deeds : profiles of contemporary New Zealand painters / Gregory O'Brien. (1996)
Focuses on the work of 18 New Zealand painters, including Shane Cotton, Pauline Thompson, Richard Killeen, Bill Hammond and others. The book aims to show how these artists have reinterpreted and reinvented notions of place and history, lands and deeds. Includes interview-based profiles of each artist and over 200 colour and monochrome reproductions of their work.